Privileged natural site in Mallorca
Playa de Muro represents a spectacular sandy area that includes four sections that covers about six kilometers in length. Each one of its beaches has fine white sand and crystal clear, shallow waters, and is ideal for families due to its easy access and its complete services, such as restaurants or special areas where you can carry out activities with the little ones.

The beach in section 1 is located just 3 kilometers from the beach of Puerto de Alcudia, and has a large number of facilities: hotels and restaurants, beach clubs, sailing and kite surfing schools, parking, lifeguards and much more.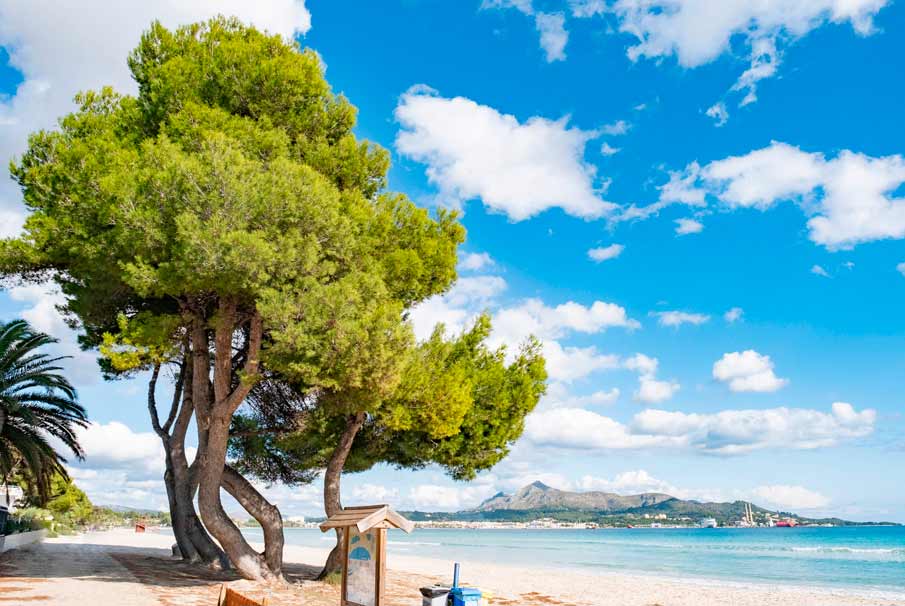 Section 2 is somewhat less busy, and from there you have access to the same facilities as section 1. This sector is located 6 kilometers from Puerto de Alcudia.

The most iconic and popular image of both sectors is that of its piers, narrow piers that jut out into the sea and represent one of the most photographed images of Mallorca.

Sector 3, also known as 'Sa Comú', already belongs to the S'Albufera Natural Park, made up of various virgin and quiet beaches, surrounded by dunes and pine forests, which, thanks to their wild and exuberant nature, manage to transmit the true essence of Mallorca, away from crowds and where you can still breathe the stillness, peace and harmony of the environment.
The S'Albufera Natural Park is the largest wetland extension in the Balearic Islands, declared a Wet Area of National Importance and a Special Protection Area for the more than 300 species of birds that visit it every year. It is located between the municipalities of Muro and Sa Pobla and can be accessed through sector 3 of the popular Playa de Muro. The S'Albufera Natural Park allows you to enjoy different itineraries to discover the fauna and flora of the place, of various durations and levels of difficulty: Itinerari dels Colombars- Itinerari de Sa Roca- Itinerari des Cibollar and Camí d'Enmig- Sa Punta.

Finally, Sector 4, 'Es Capellans', is located near the popular Can Picafort complex. It is also surrounded by pines and forests, and its name comes from the peculiar residential houses nestled in the sand that are nearby, some of which were formerly inhabited by the priests (capellans) of the Muro church.